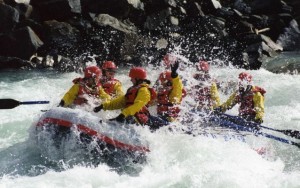 This unforgettable journey begins calmly and quietly, allowing rafters to familiarize themselves with the raft, their paddles and their guides' commands.
As the Canyon narrows, the rapids of the mighty Kicking Horse begin a whitewater experience that will take each team of rafters paddling through up to class 4+ rapids, finishing 20km downstream!
You'll enjoy 2 to 2 1/2 hours of upper canyon rafting time before heading back to our site to enjoy a delicious BBQ lunch including dessert and cold drinks.

Tours Depart Banff: 7:30am
Tours Depart Lake Louise: 8:15am
Duration: 7.5 – 8 hours
River Time: 2.5 – 3 hours
Cost: Adult $131.25 (Inc. GST and transportation)
Options are available if you wish to drive yourself. Please inquire.
Call Toll Free: 1-888-659-3394