Banff and Jasper, ALBERTA-
Nicholas J Parkinson Staff Writer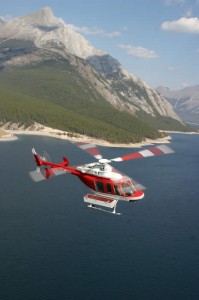 When dreaming of the Canadian Rockies many people see snow-capped peaks giving way to craggy cliffs dropping into an alpine paradise. In places like Banff National Park, mirror lakes abound, and high altitude game such as big horn sheep and moose walk around like they own the place.  Getting to these places however becomes an obstacle considering the 20 plus kilometers over rocky trails, up and down steep hillsides.
For travelers unaccustomed to trekking through the mountains, heli-hiking becomes the perfect solution for maximum benefit!
Whether you want to explore the areas of Banff or Jasper, plenty of tour operators in Alberta offer heli-hiking services into the Rockies. A typical heli-hiking outing will take visitors up to high altitudes (8,000-10,000ft) where within less than an hour, hikers can visit rarely nature panoramas different from those seen from scenic highways and byways.
Heli-hiking got its start back in the 70's when heli-ski operators tried to invent a summer activity to use their machines and backcountry lodges. While the Canadian Rockies are world famous for heli-skiing, hiking off a helicopter has just recently caught on in Alberta.

"The idea is to target people who can't access the alpine environment with such ease. It takes a lot to climb a mountain from the side of a road," Trevor Lescard, a guide for Jasper-based Overlander Trekking and Tours, explains.
"So with a helicopter you get rid of the long approach to get yourself into the alpine environment above the trees. You're getting the best possible bang for your buck as far as time spent in the mountains," Lescard says.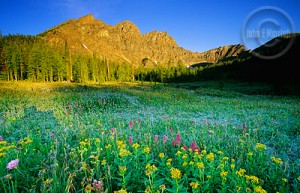 Because helicopters are not allowed to fly into the national parks, Overlander and other operators literally have to take hikers to never-before explored areas of the Rockies.  "Some people want to land on a high ridge and scramble to the top of a mountain. Some people just want to stroll through an alpine meadow, talk about geology and look at flowers," Lescard describes.
If visitors can afford the $575 per person day trip, there should be nothing standing in the way. Unless, you are one of those hikers who likes the idea of working and sweating in order to reach the goal. (There is something sweet about hiking six hours to reach a high alpine lake, taking a drink and relaxing under the summer sun)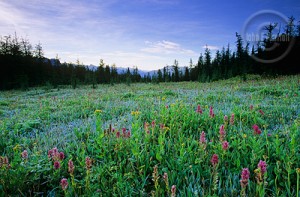 On the other hand, there are the national parks replete with crowded day-hikes… a helicopter can change all of that.
"With nobody else around, you gain access to remote terrain so easily, and the guide has the option of so many spots. Some days weather moves in, so he just chooses to go to another spot. It's that easy," Lescard maintains.
If you can't get eth helicopter off the ground, Overlander's most popular day hike takes visitors through Jasper National Park through the Mount Edith Cavell Meadows. The six hour experience brings glacial lakes, moraine fields and the 3,000ft face of Mt. Edith Cavell into focus.