Classic Hikes: June 1st – September 30th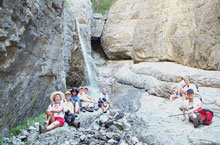 Hike to classic locations in the Banff and Lake Louise area. Share the passion for the mountains with our local, enthusiastic guides. Explore the trails in Yoho, Larch Valley, Stanley Glacier, and Plain of Six Glaciers. Hiking time is from 4 to 6 hours. Guests must have sturdy footwear and dress in layers in case of weather changes.
Your Tour Includes:
– Certified Hiking Guide
– Hotel pick up and drop off
– Use of hiking poles
– Use of binoculars
– Hearty packed lunch with choice of sandwich

Departs Banff Daily: 9:00am
Duration: 7 Hrs +/-
Adult: $74
Guests must be 13 or older for this tour
Prices exclude 5% GST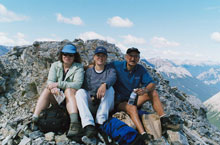 Hiking Schedule
Sunday: Yoho
Journey to Yoho Valley for spectacular views of Takakkaw falls, lakes, and glaciers.
Return Distance: 9.2 km
Elevation: 290 m
Monday & Saturday: Larch Valley
A popular hike through Alpine larch forests. Unique views of the ten peaks and Moraine lake below. Hardy groups can push to Sentinel Pass for even greater views.
Return Distance: 9 km
Elevation: 724 m
Tuesday & Thursday: Stanley Glacier
Begins in a dense lodge pole pine forest, continuing through an alpine valley before ending at Moraine Lake near the glacier's toe.
Return Distance: 8.4 km
Elevation: 365 m
Wednesday & Friday: Plain of Six Glaciers
Dramatic views of Lake Louise, Victoria Glacier and the infamous Death Trap.
Return Distance: 13.6 km
Elevation: 340 m
Hiking Tours by Banff Travel
Experienced guides lead groups of hiking enthusiasts through some of the popular destinations in the Canadian Rockies. Banff Travel has hiking packages that provide transportation to and from the hiking sights in addition to knowledgeable and friendly guides and a packed lunch.
The local guides are enthusiastic in leading fellow hikers through the trails of Larch Valley, Yoho, and Staley Glacier in the Banff/Lake Louise area. Banff Travel also offers a package of either guided or unguided tours to Sunshine Meadows, a good hiking option for any kind of weather or season.
Guests are encouraged to wear proper footwear and bring layers of clothing since weather can change quickly in the mountains.
Call Toll Free
888-659-3394