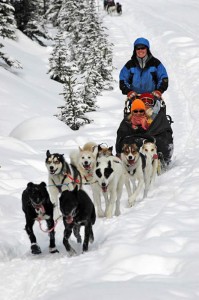 Lake Louise is an icon for Canada and a stunning place to visit. Dogsledding is the most popular winter activity and an adventure suitable for anyone. Combined these are bound to create the most memorable experience of your holiday. Dogsledding the Great Divide Tour takes you along the base of giant peaks in Lake Louise to the Continental Divide the high point separating the east from the west. This tour covers a distance of approximately 16km. Guests have the opportunity to get to know the dogs, their guides, learn the basics of driving a team – and are encouraged to drive the team home!
Guests should dress in skiwear for this trip, including hats, mitts and warm boots.
Departs Lake Louise Daily: (40 min drive from Banff)
9:30 AM, 12PM, 2 PM, 4 PM
Duration: 1.5 – 2 hours
Departs Banff from January 8th, 2008:
11 AM and 1 PM Tuesdays – Fridays

Duration: 4 hours (includes transportation)
Price per person: $137.50 plus GST
Single sledders: $250.00 (plus GST) and they will have the sled to themselves.
Return Transport from Banff: $20.00 per person
Restrictions: Prices are based on two adults per sled.