Banff, Alberta
Lisa Pugsley
Staff Writer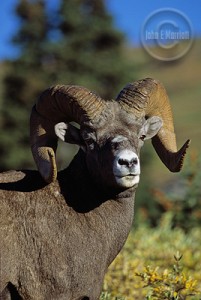 Hiking through Skoki Valley is a great way to get off the beaten trails of the Canadian Rockies. This backcountry trek supplies some stunning vistas of Banff National Park and is a great place to take in some wildlife.
The typical approach to Skoki Valley runs from Boulder Pass along the scenic shores of Ptarmigan Lake and over to Deception Pass. To make a full day hike, begin from the Fish Creek Parking area to reach Deception Pass.
Merlin Meadows is a 16km hike from the parking area (1.2km past Skoki Lodge) and is a perfect place to take in wildlife activities and set up a base of exploration. To the north of the picnic tables at the campground, hikers can observe the comings and goings of mountain goats on the cliffs and avalanche slopes.
In 1911, the first party of mountaineers to adventure into the valley Skoki Valley. The valley earned its name from two sources: a native word translated as "swamp" or marsh" as well as Skokie, Illinois, which was the hometown of one of the explorers.
From the parking lot at Fish Creek to Boulder Pass
Total Distance: 7.2 km (4.5 mi) – Boulder Pass to Merlin Meadows Backcountry Campground
Extension from day hike or backpack: depending on your point of origin, 1 hour one way to Deception Pass; 2.5 – 3 hours one way to Merlin Meadows Backcountry Campground
Maximum Elevation: 2485 m (8150 ft)
Elevation Gain: 145 m (475 ft) – Boulder Pass to Deception Pass
Elevation Loss: 385 m (1260 ft) – Deception Pass to Merlin Meadows Campground
Trailhead: Boulder Pass.
Description of the Trail: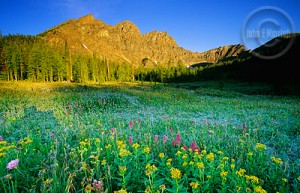 0.0 – A wooden sign will mark the east end of Boulder Pass (elevation 2340 m). Keep to the left to hike towards Deception Pass and Skoki Valley. The right will take you to Redoubt Lake.
0.5 – At this junction, follow off-trail scrambling route to Packer's Pass from Ptarmigan Lake. The trail climbs to left and be sure to keep right along the lake shore to find Deception Pass
1.9 – Sign at junction (2365 m) and turn left towards a steep upward climb. The Baker Lake trail goes straight.
2.5 – Reached Deception Pass (2485 m). Descend north side of Deception Pass on steady grade headed toward Skoki Valley.
4.9 – Trail junctions with a popular horse trail that veers off to the left after a creek crossing. To avoid mud and a narrow canyon, keep straight on the trail.
5.5 – Trail junctions meet and stay to the left for Skoki Valley. The Red Deer Lakes trail heads to the right.
6.0 – Arrive at Skoki Lodge and the trail will lead you straight to the rear of the building.
7.2 – Reach Merlin Meadows backcountry campground (2100 m).