Banff National Park, Alberta
By Ray Lumfardo
Staff Writer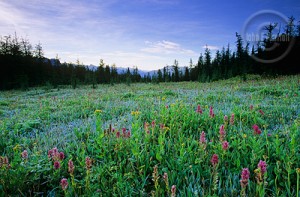 If you've been searching for a fairly easy, but still rewarding hike in Banff National Park, you've come to the right place. The Johnson Lake loop is excellent for seeing the gorgeous flowers and wildlife Banff National Park offers without requiring you to be some sort of mountain man. This hike is also a perfect family hike in the Canadian Rockies.
A network of trails in the vicinity of Johnson Lake plenty of opportunities for easy hikes. Many of the trails are intended for cross-country skiing Banff in the winter, but are still great for hiking.
The most famous hike is the circuit of the lake itself, from the parking area at the end of the road. The open sunny slopes on the north side of Johnson Lake are especially good for wildflowers, including the exquisite prairie crocus in early spring.
A highlight of this area is the presence of numerous Douglas-fir trees, one of which–at almost 700 years–is the oldest known example of the species in the province of Alberta.
After an excursion in the Johnson Lake area you might feel like relaxing at the picnic tables at its west end; if it is a warm summer day you could even go for a swim.
Distance: 2.4 km (1.5 mi) – Circuit of Johnson Lake
Day Hike: 30 – 45 minute loop
Elevation Gain / Loss: 10 m (33 ft)
Maximum Elevation: 1420 m (4660 ft)
Topo Map: Canmore 82-0/3
Trailhead: West end of Johnson Lake, reached by turning right at intersection 1.5 km north of Minnewanka interchange on Trans-Canada Highway, right again after a further 3.5 km, and proceeding 2 km to parking area at end of road.
0.0 – Picnic area at northwest corner of Johnson Lake (elevation 1410 m). Follow the north shore, along paved path at first, then make a sharp left turn after 100 m to go around a cove on a dirt path that continues along open, south-facing slopes.
1.2 – Dam at east end of lake. Turn right at south end.
1.9 – High point (1420 m).
2.3 – Turn right to bridge over outlet at west end of lake.
2.4 – Return to picnic area (1410 m).