Banff, Alberta
Lisa Pugsley
Staff Writer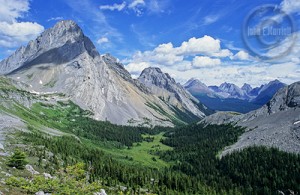 One of the most challenging decisions in planning a wedding in Banff National Park, or anywhere in the Canadian Rockies, is choosing from hundreds of beautiful locations. There are almost limitless options for getting married inside Banff.
Banff National Park offers breathtaking wedding locations
There are hundreds of beautiful locations in Banff for wedding ceremonies and receptions. Depending on what kind of scenery you want for your backdrop, Banff offers a location to fit your needs.
A Banff wedding is an affordable option for practically all budgets. Not only are these locations stunning, but the price tag won't break the bank either with proper planning and research.
Recommended Mountaintop Wedding Locations
Quarry Lake is only a few minutes drive from the town of Canmore and offers a stunning 360 degree view that is spectacular in all directions. If accessibility is an issue, Quarry Lake is a good option for both young and older guests.
Quarry Lake is also a popular location because it offers accommodations for larger weddings as opposed to most other places in Banff National Park.
Tunnel Mountain Meadow, located in the town of Banff is another good option for larger groups.
If you want a mountain top location, the Sulfur Mountain Gondola will take you straight to the top. The Gondola is easily reachable and makes a mountain top wedding accessible for guests of all ages as well.
The Gondola ride offers incredible views of the Canadian Rockies and only takes eight minutes to reach the top. At the end of your ride, you will be 2,281m (7,486 ft) above sea level giving you an inexpensive but amazing backdrop of majestic mountain scenery for your wedding.
In Banff National Park, there are no shortages of beautiful mountain backdrops.
Winter and Summer Wedding Recommendations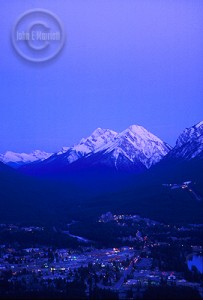 Every winter when Lake Louise freezes over, an ice castle is built, offering a magical and whimsical location for a wedding. The masterpiece is carved out of a solid block of ice every year by the chef at the Chateau Lake Louise providing a winter wonderland backdrop for your wedding.
For those who prefer a warmer temperature, Two Jack Lake is a great option for a summer wedding. The lake is only a short drive into the park from the town of Banff and offers a wilderness setting complete with big-horned sheep roaming the mountainsides.
Lodges and Hotels for Weddings
In addition to Quarry Lake, a popular place to hold a larger weddings is The Juniper Hotel & Bistro in Banff. This location is especially popular with mid-sized weddings.
In the town of Banff, Buffalo Mountain Lodge is also popular for accommodating larger weddings. The lodge is home to a large building names the wapiti, which has open beam ceilings and a gigantic stone fireplace.
If you are looking to get off the beaten path, try Emerald Lake Lodge and the Num-Ti-Ja Lodge located on Bow Lake. Both of these beautiful locations were built with the nature lover in mind, especially those who want to get away from the hustle and bustle.
The Juniper Hotel & Bistro
The Juniper Hotel & Bistro is Banff's trendy wedding oasis boasting captivating mountain views. Formerly known as the Timberline Inn, the distinctive style and locale of this recently renovated hotel will ensure a unique and memorable wedding celebration.
Start with a spectacular ceremony on the Juniper Terrace with the Rocky Mountains as your back drop for stunning photo opportunities, to a reception in the lounge or on the terrace and a fun and festive evening dining and dancing the night away. At celebration's end, retire to our cozy accommodations. At The Juniper you and your guests can have it all. The Juniper Hotel can accommodate up to 110 people. From simple to elaborate weddings, from ceremonies to banquets, this is your wedding day for us to help make perfect.
#1 Juniper Way & Mt Norquay Road, Box #3449
Banff, Alberta
Website: Click here!
Maps/Directions:View It!
toll free: 866.551.2281
Group Services: 403.763.6208
Email: events@thejuniper.com
Known for its spectacular and unobstructed mountain views, the Juniper is Banff's trendy mountain oasis. Located 2 kms from downtown Banff amidst National Park woodlands makes for an exceptional wedding stage. The Juniper specializes in celebrations for up to 110 guests. From the ceremony to your evening reception, The Juniper offers it all in one convenient location. Your guests are sure to rave about the hotel style, the Juniper's food and drink and of course those stunning mountain views.
Check Out The Juniper Hotel & Bistro – Latest Video
More Banff Weddings Information: