Banff, Alberta
Lisa Pugsley
staff writer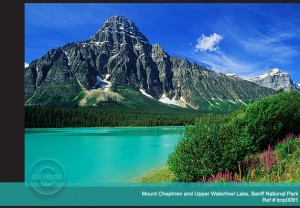 Banff National Park is home to some of the most exciting and beautiful terrain in the Canadian Rockies therefore making the park and ideal location for an adventure themed wedding.
If you are looking to get married in a way that reaches beyond the borders of traditional wedding settings, then an adventure wedding may be right up your aisle. Adventure themed weddings will take you somewhere out of the ordinary. Perhaps a couple will tie the knot in a white water raft, on horseback, or while repelling down a cave wall; pretty much anything that gets your pulse racing falls into the adventure wedding category.
How to start planning an adventure wedding
In a park the size of Banff, there are literally thousands of adventurous places to hold a wedding. The only stipulation on getting married in Banff is that there must be enough space and a way to get 5 people on the site (the bride and groom, two witnesses, and the person performing the ceremony.) Couples have helicopetered, climbed, skied, ridden horses, sleighs, and dogsleds to their wedding sites in Banff. If you can dream up your adventure, it can be done as long as those five people can make it to the ceremony.
Extreme adventures such as rock climbing and cave exploration may not be everyone's ideal adventure wedding, but if you are truly passionate about including Mother Nature in your ceremony, Banff offers plenty of ways to make that happen.
Skiing or snowboarding adventures
Near Banff, couples can get married by skiing to their chosen location. These recreational weddings are general recommended for smaller wedding parties. The following resorts offer ski weddings: Mount Norquay, Lake Louise, Sunshine Village and Nakiska.
Mush to your wedding
If you are a canine lover, bundle up with a team of Canadian Huskies and sled mush to your wedding site. Dogsleds pull wedding parties to beautiful locations in the middle of Spray Lake for unique ceremonies in the Canadian Rockies wilderness.
Rafting weddings
To add an adrenaline rush to your ceremony, try rafting the Bow River out of Banff. The trip to Canmore doesn't necessarily have to include raging rapids and there are even points in the season that rafters won't get splashed since the waters are calm. The scenery on Bow River is beautiful and could povide some exciting wildlife encounters as well.
Fly high above the Canadian Rockies for a helicopter wedding
If you are looking for some spectacular views but don't want to hike up a mountain in your wedding dress, consider a helicopter wedding. Soaring above majestic mountaintops will give you that adventurous feeling without having to worry about falling out of a boat or off of skis.
Helicopters can deliver a wedding party to some of the most exclusive and secluded locations in Banff National Park. Some areas of the park are off limits to helicopters so as not to disturb other wilderness users, but there are still plenty of beautiful locations to chose from.
The wedding party can include the bride and groom, the commissioner, a photographer and up to eight wedding guests. Also, helicopter weddings generally cost less than a traditional weddings while giving the added bonus of the adventure of a lifetime.
Things to keep in mind about adventure weddings
Adventure weddings in Banff will get your adrenaline pumping and give you some unique wedding photos, but it is also important to keep in mind some of the limitations when taking your wedding out of the ordinary.
With adventures that will require transportation of some kind, there is usually a cap on the number of guests. Ski weddings and helicopter rides require smaller wedding parties. Also many adventure locations are not handicap friendly, ie great-grandma may not enjoy a ride down white water rapids.
It is also important to have a backup plan for inclement weather since a sunny day can quickly change to a downpour in the fickle mountain weather. Besides these few considerations, adventure weddings are a great way to create thrilling and lasting memories of your special day. Banff National Park hosts plenty of opportunities to make your special day full of adventure and happy memories.