Banff, Alberta
Lisa Pugsley
Staff Writer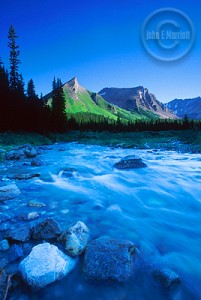 Cast your reel into some of Canada's most pristine waters in Banff National Park. Surrounded by the impressive Canadian Rockies wilderness, Banff is home to a variety of trout and is a great place to try your luck or observe fish in their natural habitat.
Preparation for making the "Big Catch" in Banff
Purchase a Permit
Before enjoying a relaxing day by the river or lake, don't forget to purchase a National Park Fishing Permit. The permit is mandatory and can be found at park information centres, campground kiosks, and some designated local retail stores. Depending on how much fishing you plan on doing in the Canadian Rockies, you can purchase a single day or annual fishing permit, both of which are accepted at Banff, Jasper, Kootenay and Yoho National Parks.
Practice Responsible Fishing
You are responsible for helping to preserve the natural resources of Banff National Park. Obey all fishing regulations, participate in public consultations and report tagged fish. Keep your base camp site clean and take all trash out of the park when you are finished.
Take Safety Precautions
You are responsible for your safety in Banff National Park so proceed with caution when riding in a boat or wading in a river. Make sure your friends and family also behave responsibly while enjoying the clear fishing waters of Banff.
Safety reminders:
Be prepared for the quick changes in weather, a sunny day can turn into a torential downpour and even summer days can be chilly in the Canadian Rockies.
If using a boat, make sure you have all required safety devices on board.
Dress appropriately and bring layers of clothing to stay warm and dry.
Banff is bear territory; always be aware of the possibility of an encounter.
Fish Watching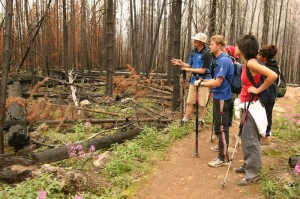 In Banff National Park, there are plenty of opportunities to observe marine life without bringing along your fishing pole. Fish watching is an environmentally friendly way to witness the hustle bustle of daily life as a fish.
Pointers for fish watching in Banff
*Do a little research on the best places to to observe fish in their natural habitat. Depending on your location and the season in Banff, you can find trout spawning or hunting for food at different times of the year.
Recommended Locations in Banff
Beaver Pond: In the fall look for brook trout spawning in the waters close to the road.
Cave and Basin Marsh: A platform has been built to view tropical fish.
Johnson Lake: Rainbow trout spawn in the spring and brook trout in the fall. Cross the bridge flowing into Muskrat Bay and look in the shallow waters.
Forty Mile Creek: In the fall, observe whitefish spawning near Fenland trail.
Be prepared for the great outdoors. Wear appropriate clothing and bring a pear of polarized sunglasses to deflect the water surface glare. For an up close and personal look, bring a binoculars to catch all the details.
Avoid casting shadows on the river or lake shore. Standing back from the water will keep your presence from startling the fish. Don't throw things into the water to get their attention, they will only scatter.
For the most activity and best viewing opportunities, go in the early morning and early evening. The waters are calmer than at midday so you will be able to see more.
To get as close as possible, go diving in Banff National Park. The big guys tend to lurk at deeper depths than is visible from the shoreline.