BANFF, Alberta-
Nicholas J Parkinson Staff Writer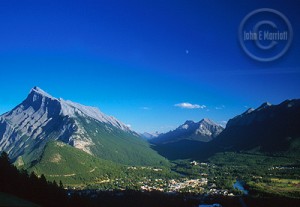 Back in 1883, when European explorers discovered the curative qualities of the hot springs located around Banff, they decided it would be a fine spot to rest and let the waters do their magic. Located amidst the Canadian Rockies, Today's Banff still retains that sensation of being a wealthy European spa crossbred with outdoor adventure and mountain culture.
People come to Banff with a clear objective of what they are going to do, but for those just drifting through, there are plenty of activities and sites to fill the day. Travelers usually come to Banff to soak in the natural jacuzzis and dine on fine gourmet but end up discovering a unique heritage and wilderness unlike anywhere else in the world.
The Banff Springs Hotel opened its doors 1888 and Europeans were already venturing into the wilds of the Canadian Rockies to relax for months at a time. Designed in the Scottish baronial style, in a nod to the town's namesake Banffshire, Scotland, the hotel was designated a National Historic Site in 1992. Once the Canadian Pacific Rail train finished its transcontinental railway, tourism in Banff and the area bloomed. Today, the railway continues to be used and the sound of a train echoing through Bow Valley is as common as a moose horn.
For more colonial heritage, go to the Banff Park Museum, built in 1903, and considered the oldest natural history museum in western Canada. It was rededicated in 1985 and is now a national historic site. There, visitors find an assortment of wildlife, minerals, and other artifacts from the area. A variety of contemporary literature will help you learn more about Banff's natural and cultural heritage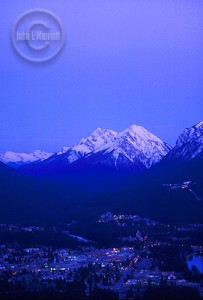 If visitors still have not had enough of museums and the area's history, the Whyte Museum contains four art galleries, a heritage gallery dedicated to the human history of this area, and an archives research library. In addition, the four acre wooded grounds surrounding the Museum includes two historic log homes and four log cabins.
One of the most important experiences while traveling through this part of the Canadian Rockies is to visit Banff National Park. But, before going anywhere else, it is recommended catching the eight-minute gondola ride to the top of nearby Sulphur Mountain appreciate Banff and all its surroundings. Here potential adventurists get a bird's eye view of the rugged beauty surrounding Banff.
GETTING INTO THE WILD
Located 130 km (80 mi.) west of Calgary, Banff National Park currently occupies 6,641 square km (4117 square mi.) of mountain wilderness within the breathtaking Canadian Rockies. One of the best places to start is with a visit to Sunshine Meadows, known to many as the most stunning alpine setting in the Canadian Rockies. Situated at about 2220m (7,300′), the meadows straddle the Continental Divide and the boundary between Alberta and British Columbia.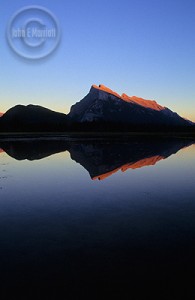 At Sunshine Meadows, hikers can see some of the Canadian Rockies' highest peaks including Mt. Assiniboine, Banff National Park's highest peak, known as "the Matterhorn of the Canadian Rockies." Sunshine Meadows is a great place for hikers to get in a day-hike.
According to local operator, White Mountain Adventures, Sunshine Meadows trails are currently 80-90% snow-free. "There is one large patch of snow to cross enroute to Rock Isle Lake. Flowers in bloom include Glacier Lilies, Buttercups, and Western Anemone," the company says.
Natural wonders abound, from the Hoodoos (giant freestanding pillars several metres tall that are made of silt, gravel and rocks cemented together by dissolved limestone), to the Vermillion Lakes (Three area lakes Canadian geese breed in the marshlands and tundra swans stop by during each spring and fall migration).
But no visit would be wild enough without a trip to Lake Louise. Known as the Canada's mountaineering birthplace, stunning peaks surround the aqua-colored waters of the lake. Indigenous groups referred to it as "Ho-Run-Num-Nay" meaning Lake of Little Fish. Colonial mountain man, Tom Wilson, however, is credited with the lake's discovery back in 1882.