Banff, Alberta
Lisa Pugsley
staff writer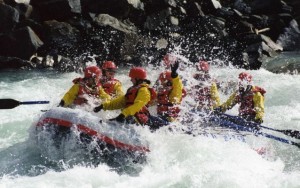 Planning a wedding is stressful enough without having to constantly worry about the comfort and needs of your guests. Luckily, if you are planning a Canadian Rockies wedding there are tons of things to see and do that will keep everyone busy and occupied allowing you to breathe easy before the ceremony. Banff National Park offers plenty of chances for your wedding guests to experience the highlights of mountain fun. With a little planning beforehand, your guests can enjoy the best of the Canadian Rockies and create lasting memories of your special day.
Bonding with your guests
Planning group activities for your guests will help them bond with each other and feel like friends before the wedding. Most guests will be eager to experience the adventures offered Banff and the surrounding areas, so why not help them out by organizing a couple of outings? The bride and groom don't have to pay for these extra excursions, only organize the trips as options for entertainment.
Organizing activities
Not all guests will want to participate in the same activities, so try organizing two adventures that will appeal to the majority. For example, great grandma may not enjoy a white water rafting trip as much as your friends from college, but she would love a sightseeing tour of Banff and Lake Louise. To bring everyone back together after their adventures, arrange for a dinner at a local restaurant so everyone can share their stories from the day. The restaurants around Banff are capable of catering to large groups, just be sure to make reservations ahead of time.
Here are a few pointers to help put your guests on the right track when planning their stay in the Banff and the Canadian Rockies.
Where to stay
Banff and the surrounding areas have plenty of quality accommodations that will fit the needs of everyone in your wedding party. Options range from spending a night in a castle, to rustic cabins and lodges, to comfortable hotel room. Check out these recommended accommodations to point your guests in the right direction.
Staying busy
Anyone who complains of boredom in the Canadian Rockies has not fully investigated the range of activities to take advantage of in Banff. From lake cruises to zipline tours, there is something fun to keep everyone busy and out from under foot during your wedding.
Feed the herd
Banff and the surrounding areas have many great restaurants that can cater to even the pickiest eaters. For some great dining ideas, click here and you'll be sure to find something to keep everyone full and happy.
For some ideas to keep everyone busy on their Canadian Rockies trip, check out these quick links.