Banff, Alberta
Lisa Pugsley
Staff Writer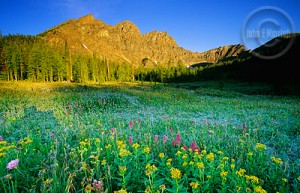 Banff National Park is home to unlimited beautiful Canadian Rockies wilderness sites but most visitors miss out on the chance to see the stunning glory of the backcountry. Strap on your backpack and head out to off the beaten path and difficult to reach areas that only a few Banff excursionists get to experience.
Discover Banff's Backcountry
Banff National Park does not have any shortage of backpacking ammenities. The park sprawls over 1,500 km of hiking trails and is equipped with backcountry campsites, trail shelters, alpine huts and lodges. In addition to wilderness accommodations, Banff has 2 horse outfitters and plenty of licensed guides to go around.
Depending on your desired backcountry backpacking experience, Banff has popular and well-maintained areas as well as more remote areas that don't see much human interference. In the more popular areas, backpackers must camp at designated campsites or trail shelters as shown on the Wilderness Pass. In the remote areas, backpackers must be ready to set up random camps.
The designated campsites of the park maintained areas come equipped with outhouses, tent pads, picnic tables, food storage cables (to keep Yogi Bear away from the picnic) and fire grates at campsites that permit fires. Some orienteering experience would be helpful in the untouched remote areas and be prepared to find your own routes as there are few bridges or blazed trails.
Backpacking Passes and Permits
The National Park Pass: Necessary to enter Banff National Park
In addition to the park entrance pass, backpackers need the following mandatory permit for overnight trips:
The Wilderness Pass: This permit indicates the number of people and tents in your group and which campsites you will use on your trip. Contact a Park Information Centre to get updated information on trail conditions before embarking on your trip if you receive this permit by mail or fax.
Reservations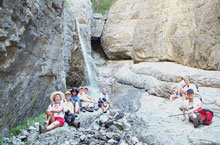 Reserving your spot at the campsites is recommended during the busy months of July and August and the park will accept reservations up to 3 months in advance. Book your trip by phone or in person at Park Information Centres and the Calgary Service Centre.
For Wilderness Passes, safety registrations (in person only), trail reservations and information:
Banff Information Centre
224 Banff Avenue
Banff, AB
Tel (403) 762-1556; Fax (403) 762-1551
The Backpacking Season at Banff National Park
The hiking season in Banff runs from May to October but can be tempermental depending on the time of the season. The early part of the season, mid-May to late June usually has a lot of the higher elevation trails still covered in snow. You may find some luck at lower elevations and south facing slopes, however, trails are often very muddy.
Prime hiking season runs from July to August when the majority of the trails are open and the mud has subsided. The dry climate of September and October are lovely, but temperatures are cooler and the chance of snow becomes higher.
Always keep in mind that weather in the mountains can change at the drop of a hat. A clear day can suddenly become snowy or rainy and temperatures below freezing should be expected at elevations higher than 1500 meters. When backpacking in Banff National Park, always come prepared for the worst of the elements with plenty of dry clothing and layers.
Backpacking Routes in Banff National Park
There are tons of great routes through Banff National Park but reaching trailheads can be a little dicey without transportation. For more information on transportation, contact the Park Information Centres. The enormity of Banff National Park provides you with plenty of viable options depending on the amount of time you plan on exploring the park. Here are some recommended and popular backpacking routes through Banff.
Two-Day Backpacking Trips
Lake Minnewanka: 8 km one way.
Paradise Valley: 9.7 km one way with an elevation gain of 291 m.
Egypt Lake: 12.4 km one way with an elevation gain of 655 m.
Glacier Lake: 8.9 km one way with an elevation gain of 210 m.
Twin Lakes: 8.7 km one way with an elevation gain of 605 m.
Elk Lake: 11.5 km one way with an elevation gain of 610 m.
Fish Lakes: 14.8 km one way with an elevation gain of 760 m.
*Some two day trips can be done in a single day.
Three-Day Backpacking Trips: Click here!

Four-Day Backpacking Trips: Click here!

Five+ Days Backpacking Trips: Click here!