Banff, Alberta
Lisa Pugsley
Staff Writer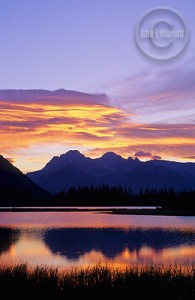 If you want to get married in Banff National Park or the town of Banff, you'll be getting a marriage certificate issued by the Canadian Rockies province of Alberta. The requirements for getting an Alberta certificate are pretty basic.
Could Banff provide your perfect wedding backdrop?
In order to tie the knot in Banff National Park, you'll need proper forms of identification such as a passport, birth certificate or driver's license, $125 and the complete names and birthplaces of both sets of parents (including mother's maiden name). If one of the partners is a widower, you must have a death certificate of the former spouse or if either have been divorced, you must present a decree absolute.
After getting your marriage license, a marriage commissioner must perform the ceremony. You'll need two witnesses over the age of 18 to attend the ceremony and photographers or videographers are usually happy to fill in this role.
The province of Alberta in the Canadian Rockies does not require waiting periods or blood tests prior to tying the knot.
Marriage in Banff National Park

The rules for getting married in Banff National Park are a little different because the park is public property. Anyone can get married in Banff as long as they meet the requirements of Alberta Province. Park Canada asks couples to fill out paperwork notifying them of the pending nuptials. If you don't fill out the paperwork, there is no need to worry since there is no penalty involved.
While planning your celebration, keep these rules from Park Canada in mind:
* You must clean up after your event. Everything must be removed that was brought in.
* Do not throw any confetti; you'll never be able to clean up every piece.
* Open alcohol containers are prohibited.
* Everyone in attendance must have a park pass.
* Gas generators are prohibited.
* Excessive noise, loud music on PA systems, and unruly behavior are prohibited
* Your nuptials cannot disturb the park's natural and cultural resources (ie: stay out of the flower beds, don't set up chairs or disturb trees or branches).
* Don't invite Yogi Bear to join the celebrations by leaving food behind.
* If you plan on using a shelter, be prepared that shelters close at 11 pm (2300 hours).
* Full responsibility for any accidents, and/or costs of clean up or site damage is assumed by the organizer of the event.
* The size of the group is limited to 20 people to prevent excessive damage to the site.
* Since Banff is a public park, no part of the park can be sanctioned off for private usage.
* Musical instruments such as harps, guitars and flutes are allowed.
How to get to Banff National Park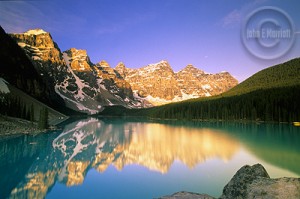 Depending on where you are coming from will decide how much time it will take you to get to the park. If you are coming from far away, Calgary International Airport is your best option for getting to Banff.
If you are in a hurry, hypothetically you could arrive at the Calgary International Airport at 9 am and be married in Banff by 1 pm.
From the airport, it takes about 1.5 hours to arrive at Banff. The airport offers car rental and shuttle services.
General information about getting married in the Canadian Rockies
The weather can change abruptly at any time of the year because you are in the mountains.

Remind guests to bring extra clothing and wear layers.
Have a back up plan if you are planning on having either your ceremony or reception outside.
If you plan on staying in Banff for longer than an hour, it might be a good idea to bring sunscreen and mosquito repellent.
If this is your first time visiting Banff, hiring a wedding planner may help your wedding run smoother. Local wedding planners know the area and have plenty of useful tips.
Banff is bear country, keep this in mind when planning your wedding.
Parks Canada wants to be aware of park happenings and do require a form to be filled out. Many couples hold their weddings in the park without notifying Parks Canada. There is not a penalty for failing to notify Park Canada.
To prevent problems with park officials, keep these items in mind:
* Clean up after your event (ie: no confetti, don't leave anything behind).
* No open alcohol containers allowed.
* Everyone must have a Park Pass.
* No gas-powered generators, loud music, or P.A. systems will be tolerated. Quiet music such as a acoustic guitar, harp or flute is allowed. Banff will not tolerate excessive noise or unruly behavior.
* Do no disturb the Park's cultural and natural resources. Don't remove trees or branches, pick flower beds or set up chairs.
* Bears do reside in the Park, do not leave any food out or behind.
* Shelters close at 11 pm.
The organizer of your event is responsible for any damages to the site, incidents or rehabilitation costs resulting from the event.
To reduce the impact of your event on the Park, limit the number of guests attending the ceremony to a maximum of 20 people. To keep vehicular traffic to a minimum use car pooling or group transportation.