Banff, Alberta
By Ray Lumfardo
Staff Writer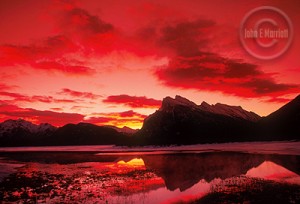 Weighing in at 6,641 square kilometres (2,564 square miles) in area, Banff National Park is the second largest park in the Canadian Rockies, just behind Jasper National Park.
Here are some basic facts about the park:
Banff National Park has its humble roots as a ten square mile reserve around the Sulphur Mountain Hot Springs, established by the Dominion of Canada in 1885.
Fifty-eight percent of visitors to Banff are from the province of Alberta, but more and more visitors are coming from other countries to see the wonders of the Canadian Rockies.
The park is immensely popular, receiving more than five million visitors a year.
Banff National Park's western boundary runs for 240 kilometres along the Continental Divide.
Banff was the first national park established in Canada, and the third established in the world behind Yellowstone National Park in the United States and Royal National Park in Australia.
Banff National Park is one of four national parks (Banff, Jasper, Yoho and Kootenay) that, together with three British Columbia provincial parks (Mount Assiniboine, Mount Robson and Hamber), make up the Rocky Mountain Parks World Heritage Site.
In the Canadian Rockies, there are 69 naturally occurring species of mammals. Visitors often see bighorn sheep, deer, elk, coyotes and black bears.
Elk are the most common large animal found in Banff National Park, with a population of several thousand.
The Bow Valley Parkway is an alternate scenic route from Banff to Lake Louise. Fifty-five kilometres long (thirty-five miles), it provides outstanding views of the Sawback Range and Castle Mountain, as well as taking visitors to Johnston Canyon.
The town of Banff was not always the largest town in the park. In the early 1900s the coal mining town of Bankhead was a booming "metropolis"…it's now the park's most famous ghost town.
The largest lake in the park, Lake Minnewanka, is man-made. When it was dammed, the water level rose and drowned the tiny resort village of Minnewanka Landing.
These fields beneath Castle Mountain once were home to Western Canada's largest city. The boom town of Silver City lived for just a few years, but had 2,500 residents at its heyday in the 1880s.
Lake Louise, the most famous landmark in the Canadian Rockies, was "discovered" by guide/outfitter Tom Wilson in 1882. However, natives of the Bow Valley had known of the lake's existence for some time — one of them, Edwin Hunter, led Wilson to the lake's edge.