Banff, Alberta
By Ray Lumfardo
Staff Writer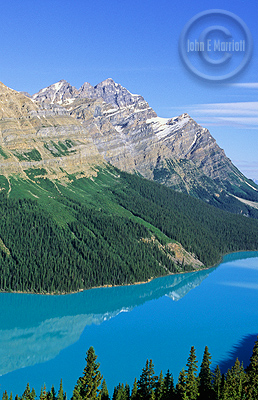 Lake Minnewanka, is the largest lake in the Banff National Park, and one of the Canadian Rockies' most beautiful. The lake is popular for boating, sailing, fishing, picnicking, hiking and camping. If you didn't BYOB, rental boats are available, and so is fishing tackle.
There are also interpretive boat tours offered, which give a great sense of the regions aboriginal and geological histories. The tours are a great option for disabled park visitors.
Lake Minnewanka is, furthermore, one of the best places in the park to see various wildlife, including wolves, grizzlies and elk.
Lake Minnewanka is fed by the Cascade River. Numerous streams flowing down from Mount Inglismaldie, Mount Girouard and Mount Peechee on the south side of the lake also feed the lake.
Aboriginal inhabited areas around Lake Minnewanka as early as 10,000 years ago, according to archaeologists who have found stone tools and a Clovis point spearhead in the area.
The western end of the lake can be reached by following Lake Minnewanka road from the Trans-Canada Highway. You can find the boat tours near the parking lot.
There is a hiking and mountain biking trail running along the northern shore of the lake, passing Stewart Canyon and several backcountry campsites. Mount Aylmer, which at 3,162 m (10,374 ft) is the highest mountain in this area of the park, is located just north of the lake.
Activities: Sightseeing, photography, wildlife watching, walking, hiking, fishing, swimming, boating, picnicking, biking, cross-country skiing.
Location: Scenic route linking the town of Banff to Lake Minnewanka and the swimming hole at Johnson Lake. Accessed directly from Banff Avenue in downtown Banff.
Time: 1 hour round trip.
Tour Boats
The 42-foot tour boats are comfortable, glass-enclosed crafts that can be heated in case of bad weather. They are also Transport Canada certified and fully equipped with safety equipment ,including life jackets, life rafts, and fire extinguishing systems.
Prices:
2009 Regular Rates (inclusive of GST – not including gratuities):
Adults $44
Children (6-15 years) $19
Children (5 and under) Complimentary