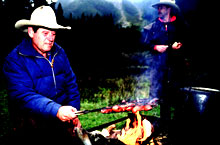 Enjoy a leisurely one-hour trail ride to the BBQ site, located near the Sundance Canyon trail. Try your hand at roping, challenge friends to a game of horseshoes or relax in the picnic area, while our cook prepares your steak to order. After a hearty meal you will ride back to Warner Stables for an hour along the banks of the Bow River.
For non-riders, the steak fry site is accessible by horse drawn carriage or covered wagon.
DINNER MENU:
BBQ Steak
Home-made Baked Beans
Baked Potatoes
Caesar Salad, Rolls
Dessert
Coffee, Juice

Departures Daily: 5:00pm (4:00pm after September Long weekend)
Duration: 3 hours
Location: Warner Stables
Rider: $97.14
Wagon adult: $78.10
Wagon child (4 – 12): $68.57
Prices exclude 5% GST.
Call Toll Free
888-659-3394