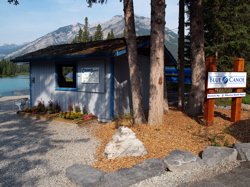 Glide through the wilderness of Banff National Park in your rented Blue Canoe or kayak. Explore the waterways of the Bow Valley, including 40 Mile Creek and Vermilion Lakes or the Bow River. Your rental begins with basic instruction and safety tips before putting into the water. Slow down and share this authentic Canadian experience with friends or family.
Route 1: 40 Mile Creek and Vermilion Lakes
40 Mile Creek A shallow, gentle waterway, fun to paddle
Under the bridge Grab a photo passing under the railway bridge


Vermilion lakes A birders paradise, and photographers dream
Route 2: The Bow River
The Bow River A gentle portion of this major waterway is superb for canoe travel
CP Rail Trainspot Canada's first railway line while you paddle alongside the tracks
Wildlife Stay alert for birds and wildlife in this important wildlife corridor
***Routes are subject to closure due to
water levels and safety***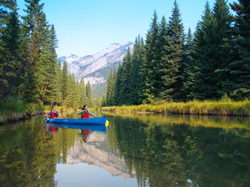 Includes:
Canoe or kayak rental
Paddles, life jackets, bailing bucket, whistle
Safety orientation by certified staff including paddling strokes, and safety tips
Route map
Options:
Middle seats for children or third adult
Dry bags, cup holders available at an extra charge
Hours of operation:
May 10th – June 15th: 10am until 6pm
June 16th – September Long Weekend: 9am – 9pm
After September Long Weekend – October 12th: 10:00am – 6:00pm
Cost per canoe or kayak: $28.00 1hr, $45.00 2hr, $60.00 full day rental (includes GST),
Specials: 2 hr for the price of 1 hr
Available for the last two hours of operation
Call us direct for hours of operation 760-5465
Corporate Pass: $500.00 Accesses unlimited 2 hour rentals (1 canoe or kayak per pass per two hours). A great incentive for VIP customers or staff.
Late charges: There is a 10 minute grace period for returns after which you will be billed the next higher rental rate
Age: You must be 18+ to rent a canoe
Deposit: A credit card or I.D. must be left as a security deposit for every rental