Canoeing and Kayaking
"To canoe is to be Canadian". Change the pace and gain tremendous views of the Bow Valley and surrounding mountains with a rental canoe or kayak. Rentals are available directly from downtown Banff at the Blue Canoe Docks. Explore up the Bow River or try a unique journey into Vermilion lakes via 40 mile Creek.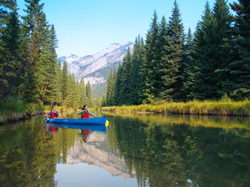 Canoe & Kayak Season: May 10th – October 12th
Canoe and Kayak Rentals (all equipment provided)
Put in directly from the Blue Canoe Docks along Bow Avenue. One hour, two hour and full day rentals are available from morning to early evening. We are located only 3 minutes from downtown Banff.
Call Toll Free
888-659-3394