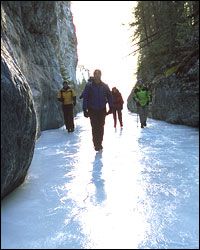 A unique Winter experience, explore three different canyons, each with special highlights. Select from the tours below.
Grotto Canyon Icewalk
Walk on a frozen creek through a narrow gorge and learn about ancient Native Rock art painted on the canyon wall
Departs Daily: 9:00am
Johnston Canyon Icewalk
Walk on steel catwalks built into the canyon wall, see the spectacular frozen upper waterfalls
Departs Daily: 8:30am, 1:30pm
Evening Icewalk & Campfire
An evening walk to a historical bridge with the chance to roast marshmallows over an campfire
Departs Sundays, Tuesdays, Fridays: 6:30pm
Banff Travel Ice Walks
Trek across frozen sheets of ice in the canyons of the Canadian Rockies. Banff Travel offers ice walks in Johnston Canyon and Grotto Canyon that will allow you to see how these formations were created by ice movement.

The history of the Canadian Rockies will come alive before your eyes as you wander past Native art, contorted rock formations, and geological wonders. Participants can also choose to take a night ice walk in which you will warm up by a campfire after exploring the shoreline of Lake Minnewanka.
Guests should dress warmly for all of the ice walks and bring a hat, gloves/mittens, and warm boots. Ice cleats, ice poles, hot chocolate, and a light snack are provided by the experienced guides.
Call Toll Free
888-659-3394
[contact-form-7 id="2574″ title="Ice Walk Leads"]