Calgary, Alberta
By Ray Lumfardo
Staff Writer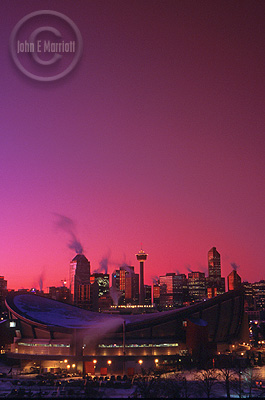 Many visitors to Banff and the Canadian Rockies tend to think of Calgary as just a gateway, a way point between home and their final destination.
But more and more travellers realize that Calgary is a cosmopoltian city, bursting with cultural events for its inhabitants and visitors alike. There are numerous theatre companies and art galleries, and more and more interesting events being put on each year. So before heading up to Banff National Park or the Canadian Rockies, you may want to take a few days in Calgary.
If you need any more convincing, you may want to note that in 2008, Calgary beat Canadian cities like Montreal and Toronto to be voted "Canada's Most Cultured City" by MacLeans Magazine. Winning this title can be linked to Calgarians, who are very involved in the city's cultural scene. More than 50 percent of all Calgarians spend money on attending museums and the performing arts, giving Calgary the highest cultural participation rate in the country.
At the heart of the city lies the EPCOR Centre for the Performing Arts. This huge building spans almost 2 entire city blocks. It houses five permanent theatres, including the stunning 2000 seat Jack Singer Concert Hall. The acoustics here are on par with the best in the world, including the Sydney Opera House.
Every night, there seems to be something new going on in Calgary. The centre in particular is always buzzing with some show or another and Calgarians are only too happy to get involved.
The Southern Alberta Jubilee Auditorium lies in the city's northwest. It has only recently re-opened after extensive renovations but has once begun to host huge varieties of performances from ballets to operas.
Of course it doesn't always have to be huge locations. If you like more intimate venues, keep your eyes open around town as there are some really excellent café, hotel and pub shows. Canada's music industry in particular is really thriving at the moment, so now is the time to see some great performers while they are still playing to small crowds.