Calgary, Alberta
By Ray Lumfardo
Staff Writer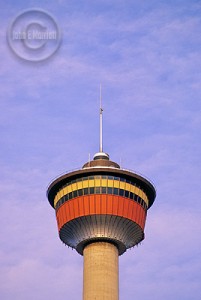 Once upon a time, people considered Calgary to be a boring city, like a little island surrounded by ranches. These days though, it's becoming known as a bustling cosmopolitan metropolis just a stone's throw from the Canadian Rockies, full of all sorts of entertainment options.
So before heading up to the delights of Banff, why not stay a few days in Calgary? The to-do list is practically endless. If you have time to stop for a few days before hitting the mountains, here are just a few of the things to keep you occupied.
Calgary Zoo: This is one of North America's largest zoos, with an unbelievable selection of animals from around the world. It is very popular with children, of course, and there is also a large conservatory and garden area for the parents to relax. Speaking of parents, there is also the Prehistoric Park, featuring life-sized sculptures of dinosaurs, and many animal and nature-themed playgrounds dotted around the zoo.
Calgary Tower: Built in 1968, this Calgary landmark had its greatest moment of glory when it acted as a torch for the Olympic flame for the winter Olympics in 1988. The 3D view that you get from the look-out deck is spectacular, and with the new glass floors built in, it offers a whole new, although a bit terrifying, view. We recommend visiting the towers restaurants after looking down the glass floors.
Canada Olympic Park: This is one of the most visible reminders in Calgary of the successful 1988 Olympics. Today, athletes still continue to be trained here to try and maintain Canada's record in the winter sports. There are three ski jumps, a bobsled course, and luge track. During summer you can use the skyline, which lets you experience flying off the 90-metre tower like the ski-jumpers, but without the risk of crashing.
Calaway Park: There is no end to the fun at Calway Park. It has everything you would expect from Western Canada's largest amusement park, including a roller coaster, train ride, log ride, Ferris wheel, and all the other classics you have come to expect. It is set in a wonderful location also. On a clear day, you can get a great view of the surrounding mountainside from the top of the Ferris wheel. Refreshingly, entrance is with a "one price, all rides" ticket so you don't have to spend half an hour outside pondering your options. There are rides for all ages, even the oldies! In the summer, there are some great live shows too. It is always a great day out with the family. On Hwy 1 (Trans-Canada Hwy, aka 16 Ave N. in Calgary) about 10 minutes west of Calgary; use exit 169.
Calgary Chinese Cultural Centre: The name pretty much says it all. Everything you need to know about the history and rich culture of Chinese Albertans.
Keep an eye on the local media to see what sort of events are coming up that might suit you or your family. Also ask the staff at your hotel who are usually happy to help.